The governorship candidate of the All Progressives Congress (APC) in Edo State, Godwin Obaseki, has pleaded with the people of the state to trust him with their votes in the September 28 rescheduled election in the state.
But it seems the party is taking it a little further to feed the people of Edo State with Stomach Infrastructure with the supply of baked beans to the electorates..
Obaseki had said that the upcoming governorship election in the state would be the beginning of an economic revolution with more wealth creation capacities and better opportunities for all Edo people than ever experienced before.
Obaseki, who made this known during an interactive session with 2000 support groups in Benin City, the state capital, noted that Governor Adams Oshiomhole laid a solid foundation on which he and his running mate, Honourable Philip Shaibu, would build on.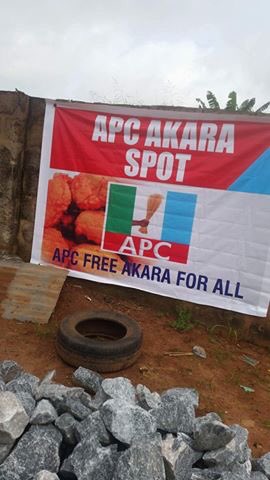 He said: "For me, September 28 will be the beginning of a real economic revolution in Edo State. When the comrade Governor assumed office almost 8 years ago the circumstances were very different: we have to fight hard to free the state from the stranglehold of the PDP cabal who had held us down in perpetual under-development for 16 years".
"In spite of their fierce resistance because they were used to sharing our money, we still were able to rebuild schools for our children, and we opened up many communities across the state through the massive road construction projects that we undertook. Nobody thought it was possible but we did it; we proved to our people that with good and determined leadership Edo State can work again".
Commenting further, Obaseki said: "Today, Edo State is in a better place than we met it almost eight years ago. Yes, there are many challenges facing us – mostly as a result of the global economic recession – but we believe that with the solid foundation that the Comrade Governor has laid in infrastructure development, we now have a unique opportunity to bring about an economic revolution in the state by broadening of our revenue stream through strate