Aisha Buhari, wife of President Muhammadu Buhari is proving to the world that she does not belong in her husband's kitchen.
Few minutes ago, Aisha announced that she is off to Brussels in Germany to deliver the opening remark on "Women's Role in Global Security". She is accompanied by several aides and her daughter , Hanan.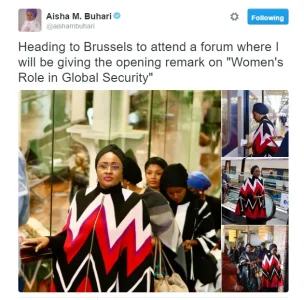 Ad ==> A Former One Minute Man Who Now Last 35mins+in Bed Reveals The Secret Of His New Strength.
Face Comments
comments